Renee Renfroe: Inspiring the Next Generation of Wildlife Heroes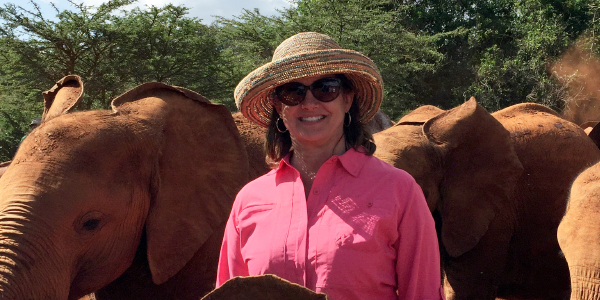 As a longtime member of the Houston Zoo, Renee Renfroe watched her son grow up during Zoo visits, saw her friends and family get more involved as volunteer leaders, and supported our annual fund. As an Asante Society member, Renee's passion for our wildlife-saving work has grown through conversations with our conservation partners and utilizing the benefits associated with her membership to get closer to our mission.
"I've always been a supporter but got more involved after seeing our Zoo's conservation work in action." That life-changing experience happened in 2017 when Renee traveled with close friends to Africa on a trip led by Peter Riger, Vice President, Conservation and Education. In Kenya and Rwanda, Renee learned first-hand how our Houston Zoo collaborates with our conservation partners in protecting wildlife, like giraffes and gorillas. "Our Houston Zoo elevates wildlife-saving initiatives led by people from the regions they support. Helping them is so important for these conservation projects to be sustainable in the future."
When Renee returned, she began supporting our Zoo's conservation projects directly. In 2019, she chaired the Wildlife Conservation Gala with her mom, Ginger Blanton. Renee wanted to do even more to save wildlife, so she decided to make a gift in her estate that will support conservation programs in the future.
"To me, conservation is about both animals and people. Our Houston Zoo understands that connection as a leader in saving wildlife. I want our conservation partners to inspire the next generation to care for and protect animals. It makes me happy knowing my legacy gift will support that." By making a gift in her will, Renee helped ensure that our wildlife-saving work continues in the future. She is part of a dedicated group of supporters who have made legacy gifts as members of The John and Ingrid Werler Society.
Like Renee, you can make sure that your legacy helps look after our animals and those in the wild by including the Houston Zoo in your estate. These gifts can be any size - a percentage of what is left in your IRA, or a small gift in your will or trust after you have taken care of your loved ones.