Ann and Stephen Kaufman: Helping the Next Generation Make Memories with Our Animals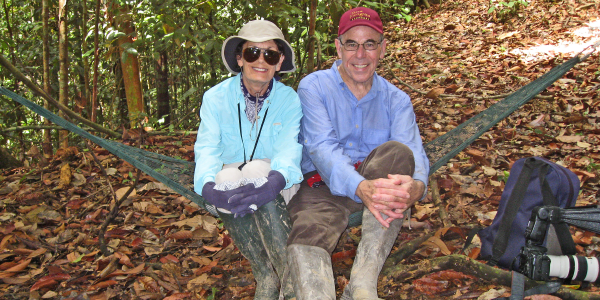 Families and friends have created special memories at our Zoo over the past 100 years. For Ann and Stephen Kaufman, it was a part of their childhood growing up in the city. It was such a special place that Ann volunteered with our Zoo in the 1960s. After being longtime members and volunteers, Ann and Stephen began going on trips through our Zoo's Wildlife Travel program. From South America's Pantanal to Rwanda and to Borneo, their passion for conservation grew as they saw animals in their natural homes and created life-long memories with Stephen's beautiful photos of the wildlife they encountered.
Stephen served on the Houston Zoo's Conservation Committee and Board of Directors for many years. His leadership shaped our Zoo's approach to saving wildlife in Texas and around the world. Stephen said, "The Houston Zoo is where I fell in love with animals. I am proud of the role our Zoo has played in saving wildlife during its first 100 years. I am excited to see how our Zoo's conservation work will inspire guests to care for animals in the future."
Have you ever thought about how your legacy can support the future of our Zoo? Ann and Stephen considered that when they reviewed their estate plans a few years ago. They included our Houston Zoo to ensure that our wildlife-saving work continues in the future. "Many years ago, people founded the Houston Zoo, so we had a beautiful place to see and learn about animals as children. To Stephen and me, it's important that the next generation has a world-class zoo that inspires them to save wildlife. We are delighted to know our gift will help make that future happen," Ann said when thinking about their legacy.
Like Ann and Stephen, you can help our Zoo remain a special place that connects adults and children with animals. The next 100 years at the Houston Zoo starts with you. Thank you for considering a legacy gift to our Houston Zoo!