Mardi Turner: Caring For our Animals for the Future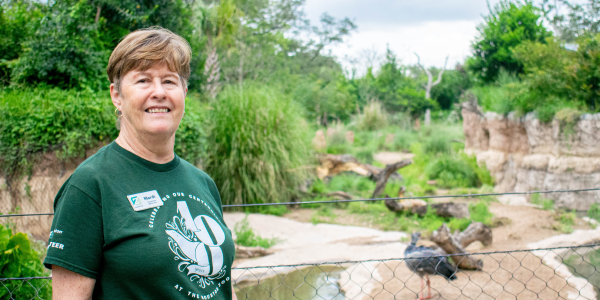 Why do you support our Zoo? For Mardi Turner, it's because of our commitment to providing the best care for our animals. She began volunteering at our Zoo in 2001. "Right now, I assist with food preparation for some of our smaller animals, like the Asian small-clawed otters. I love watching the meerkats dig for the daily meals the keepers put in the habitat," Mardi said about her current volunteer duties. Besides helping care for our animals as a volunteer, Mardi is a loyal donor to several programs and a frequent traveler on Zoo trips.
Because of her connection to our work, Mardi supports our mission to connect communities with animals, inspiring action to save wildlife. But she wanted her generosity to last beyond her lifetime.
When redoing her will, Mardi decided to include a gift to the Houston Zoo. With this simple action, Mardi's legacy will help care for our animals in the future. "I'm proud that my generosity will care for the animals at our Zoo in the future. I hope my story inspires others to do the same or to find out more about making a legacy gift to our Zoo."
Your life's work and legacy are your opportunity to make a statement. Including the Houston Zoo in your will is a simple way to make a big impact. Whatever the reason behind your giving, we are here to help you fulfill your goals.